Church Update 4-17-20
Church Family,
I pray that is finds you well. I wanted to send out a few updates for you about the events of the past few weeks and ways that you can continue to connect to our church.
First, our Easter activities went amazingly. We all know that this year was different and new but our community and our church responded in awesome ways. Our Easter Egg Scavenger hunt was a huge success. While we cannot know specifically how many folks participated the day of the event, I can attest that it was a lot! As we drove around as a family there were a ton of cars looking for eggs around town. Our golden eggs were found in the first hour! All of the feed back has been very encouraging and everyone seemed to love it. We had 107 house and businesses participate in the "hunt". Thank you again for your encouragement and letting us try this new event. I know that it was a tremendous encouragement to everyone in our community. The image below is from our Facebook page, it will give you a picture of how big of an impact this event had. It reached 6,800 people.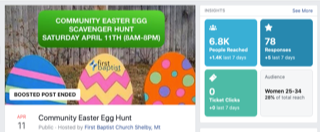 Our Good Friday service was viewed by 227 people. Then on Easter morning we had 147 people view the Early Easter Service. Our Easter Drive-In Service was another highlight in our community and church we had 551 people viewing across our media platforms and 18 cars in the parking lot. It was very exciting to see that many engaged in hearing the Gospel. I have also gotten to follow up with 2 individuals who want to know more about Salvation from that service! Some of you may have also seen Shannon and the children's teachers videos about the Resurrection Eggs throughout the week and we literally had thousands of views on those. I was so encouraged to see the reach that our church had into the community during this trying time. While we may not be gathered in our building we are still the Church! Praise God for these AWESOME things!!! I wanted to share this humorous cartoon that someone sent me that illustrates that truth.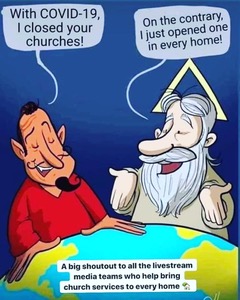 Another thing that I would like to highlight is our Prayer Prompts and Devotionals. For the past few weeks, I have been sending these daily via email, Facebook, and text messages. I still intend to do these but only once a week at this point.
Another way that we have been serving our community is through delivering groceries for those who are unable to get out during this time. My self and a few volunteers have served over 20 folks through this ministry opportunity. We are being sure to take the necessary precautions as we do this including wearing gloves and masks as well as keeping safe distances when we deliver by leaving the goods at their doors. If you know someone who might need groceries please let me know. The way it is working is that we leave them a list to fill out with what they need, then we go to the store and shop for the items, once this is done the store calls the individual and takes their card information, and we then deliver them to their door step.
I have also been working on setting up a new Church Management Software called Planning Center. This resource will enable us to have our contact information, emails, text messages, online giving, child-check in's and a lot of other things in the same place. You should have received an email about being added to this resource at this point. This tool will help us keep up to date information and communicate more effectively. If you are interested you can click this link https://www.planningcenter.com and hit Watch Our Video to see what all it does.
Regarding our Services and Sunday School, for the time being, we will continue to do online services through our Facebook, Youtube, and Zoom (for Sunday School only.) We will also continue to broadcast our service on 88.7 FM on Sunday mornings. This covers the majority of Shelby.
Ways to Connect on Sunday:
Sunday School at 9:45 am- 4-19-20
Facebook- https://www.facebook.com/firstbaptistshelby
Youtube- https://www.youtube.com/channel/UCnXEWHmddDIGlxJMRM1t1EQ
Zoom- https://zoom.us/j/96388196456
Worship Service at 11:00 am- 4-19-20
Facebook- https://www.facebook.com/firstbaptistshelby
Youtube- https://www.youtube.com/channel/UCnXEWHmddDIGlxJMRM1t1EQ
Radio- 88.7 FM
Finally, please continue to pray with me for our community and church. Many are worried, concerned, and struggling. Some have been personally touched by this virus and others are struggling from what the virus has brought about.I sincerely miss seeing each of you and I look forward to the day that we can fellowship together again. In the mean time, I am praying for you. Thank you for walking with me through these new days. We are all learning new ways to relate. We know that God is in control and we are trusting Him with that!
He is Good!
Devotional Thought- 4-7-20
Today, pray for our Good Friday Service, which is Friday at 5:30 pm. Pray that the power of the Cross will be heard and responded to as we share it across our online platforms.
Pray with us together at 6:30 pm.
APRIL 7—TUESDAY BEFORE EASTER
But unto the Son, He [God the Father] saith, "Thy throne, O God, is forever and ever: a scepter of righteousness is the scepter of Thy kingdom. Thou hast loved righteousness, and hated iniquity; therefore God, even Thy God, hath anointed Thee with the oil of gladness above Thy fellows." Hebrews 1:8-9
What an amazing life the Lord Jesus lived. Do you realize He never had to correct, withdraw, or amend any statement He ever made? I wish I could say that! He never had to apologize for anything He said or did. He never sought advice from anyone or had to ask forgiveness.
Jesus Christ doesn't have any strong points. For Him to have strong points, He would have to have weak points. Robert Clark has rightly described His character:
"There was meekness without weakness, tenderness without feebleness, firmness without coarseness, love without sentimentality, holiness without sanctimoniousness, lowliness without lowness, truth without error, enthusiasm without fanaticism, passion without prejudice, heavenly‑mindedness without forgetfulness, carefreeness without carelessness, service without servility, self‑exaltation without egotism, judgment without harshness, seriousness without somberness, mercy without softness."
What a person was the Lord Jesus Christ!
The greatest question ever asked was the question recorded in Matthew 27:22. When Jesus stood before Pontius Pilate, Pilate asked the crowd, "What shall I do then with Jesus, which is called Christ?" Now I'm going to ask that question of you: What will you do with Jesus?
Devotional Thought 4-3-20
Today, pray for our men and women in Military Service as they are away from their families or as they have been called upon to serve in new areas because of the virus.
Here are 11 Scriptures intended to provide you comfort and help you stay encouraged as you and those you love navigate the days that lie ahead in our battle against COVID-19:
The Lord is good, a refuge in times of trouble. He cares for those who trust in him. Nahum 1:7 (NIV)
Let not your hearts be troubled. Believe in God; believe also in me. John 14:1 (ESV)
The steadfast love of the Lord never ceases; his mercies never come to an end; they are new every morning; great is your faithfulness. Lamentations 3:22-23 (ESV)
God is our refuge and strength, A very present help in trouble. Therefore we will not fear, though the earth should change, And though the mountains slip into the heart of the sea; Psalm 46:1-2 (NASB)
Therefore don't worry about tomorrow, because tomorrow will worry about itself. Each day has enough trouble of its own. Matthew 6:34 (HCSB)
Do not be afraid of sudden terror or of the ruin of the wicked, when it comes, for the Lord will be your confidence and will keep your foot from being caught. Proverbs 3:25-26 (ESV)
'Ah, Lord God! It is you who have made the heavens and the earth by your great power and by your outstretched arm! Nothing is too hard for you. Jeremiah 32:17 (ESV)
Do not be anxious about anything, but in everything by prayer and supplication with thanksgiving let your requests be made known to God. And the peace of God, which surpasses all understanding, will guard your hearts and your minds in Christ Jesus. Philippians 4:6-7 (NIV)
Be strong and courageous, because you will lead these people to inherit the land I swore to their ancestors to give them. "Be strong and very courageous. Be careful to obey all the law my servant Moses gave you; do not turn from it to the right or to the left, that you may be successful wherever you go. Keep this Book of the Law always on your lips; meditate on it day and night, so that you may be careful to do everything written in it. Then you will be prosperous and successful. Have I not commanded you? Be strong and courageous. Do not be afraid; do not be discouraged, for the Lord your God will be with you wherever you go." Joshua 1:6-9 (NIV)
Now may our Lord Jesus Christ himself, and God our Father, who loved us and gave us eternal comfort and good hope through grace, comfort your hearts and establish them in every good work and word. 2 Thessalonians 2:16-17 (ESV)
Whatever happens, conduct yourselves in a manner worthy of the gospel of Christ. Then, whether I come and see you or only hear about you in my absence, I will know that you stand firm in the one Spirit, striving together as one for the faith of the gospel. Philippians 1:27 (NIV)
These are just a few of the many rich words found in God's word that can provide comfort, encouragement, and focus as we walk through uncharted territory together. While the waters ahead appear deep and dark, remember that in Jesus Christ, we have hope. John declared that "The light shines in the darkness, and the darkness has not overcome it."
Reflection Questions:
What passage of Scripture have you been meditating on during the COVID-19 crisis?
How is your church staying connected during the COVID-19 pandemic?
In what ways has the Lord revealed himself to you during this crazy time?
What blessings have you discovered during this trial?
Devotional Thought 4-2-20
Today, pray again for our hospitals, doctors, nurses, and those in health care. Pray that they would be protected and would be able to find rest in the midst of this situation.
We all struggle with spiritual discouragement and lethargy, maybe more so in these days. Some days our circumstances threaten to overwhelm us, and we struggle just to pray. Many times we just don't feel like doing the things we know we should. For one reason or another, God sometimes seems far off and unreachable.
David faced times like these in his life. The Psalms are filled with verses that express his despair and feeling of abandonment.
Yet the Psalms also give us the key to living during the dark periods of life. Let's take a quick look at Psalm 119:89-95*.
"Forever, O LORD, Your word is settled in heaven. Your faithfulness continues throughout all generations; You established the earth, and it stands. They stand this day according to Your ordinances…"
My circumstances, feelings, or this situation have not changed God. He is the same God today as He was when He hung the stars in the sky, led the Israelites through the Red Sea, and fed the five thousand.
"For all things are Your servants…"
All things, even the things affecting me right now, are God's servants. The circumstance, people, and events around me are all under God. They are His servants, designed to help and bless me spiritually.
"If Your law had not been my delight, Then I would have perished in my affliction. I will never forget Your precepts, For by them You have revived me. I am Yours, save me; For I have sought Your precepts. The wicked wait for me to destroy me; I shall diligently consider Your testimonies."
Recalling God's faithfulness and control over everything that touches us gives us strength to walk with God even when we feel like giving up in despair. After all, our feelings and circumstances have not changed God. He is perfectly capable of sustaining us if we will only let Him. We simply need to choose to delight in and diligently consider God's precepts (His principles and character) despite how we feel.
Choosing to delight in God might not be easy. It might even involve hard work. But only God can revive and save our soul from spiritual lethargy.
Next time you feel spiritually drained or inadequate, remember that you have a choice. You can wrap yourself up in excuses and self-pity, or you can choose to draw your strength from an unchanging God.
Devotional Thought 4-1-20
Today, pray that hope would abound in this situation. Romans 15:13-15
Romans 15:13-15Now may the God of hope fill you with all joy and peace as you believe in Him so that you may overflow with hope by the power of the Holy Spirit.
During this great time of uncertainty, I have been heavily reminded how easily shaken we can become, and how quickly we can be overcome by anxiety, fear, and panic. On the flip side, when we put our trust and faith in Jesus Christ, how quickly peace and trust can flood a person's spirit.
As this week has crept by, Psalm 94:19 constantly reminds me to hand over my every worry and anxiety and release it to the Lord. It's so easy to panic, worry, and get wrapped up in those feelings. However, we aren't called to live in fear; we are called to live the life God has called us to–one of courage, and one which pours the love and light of Jesus into the lives of those around us.
When anxiety was great within me, Your consolation brought me joy. Psalm 94:19
Psalm 94:19 calls us to lean into the Lord and find our comfort and peace in him, which will, in turn, create joy within us. A way we can experience a deeper joy is by being the hands and feet of Jesus to those around us that may be less fortunate or may be unable to leave their homes.
Look for ways you can serve someone around you no matter their age. If you happen to have a neighbor or friend who is 65 years or better, check in on them, help them know you're there for them, and remind them they're not alone. You will experience a deeper joy and less anxiety when you extend a hand to someone.
Anxiety weighs down the heart but a kind word cheers it up. Proverbs 12:25
Anxiety can be such a painful, depleting emotion to experience. Even though God gave us all the emotions we experience, he gave those to us so that we will learn even deeper ways of drawing nearer to him.
We are called to draw near to him at all times and in all seasons; however, some seasons or days call for a greater dependence on him. In times like those we're dealing with today, I do believe we are called to an even greater dependence on the Lord.
To take it a step further, we could all impact someone by a simple phone call or text to encourage and pray for them, or simply praying for someone even if they don't know you're praying for them. Sometimes the acts of kindness that go unnoticed by a physical being hold greater weight in the long run–and they don't go unnoticed by our Heavenly Father.
Have I not commanded you? Be strong and courageous. Do not be afraid; do not be discouraged, for the Lord your God will be with you wherever you go. Joshua 1:9
One of my life verses is Joshua 1:9 as it tells us in all times and seasons to be strong and courageous in the Lord. To not be overcome by fear–to pray through discouragement. It reminds us God will get you through whatever you are going through or will go through. It also reminds us that God is always by our side every step of the way, giving his wisdom and direction. We are simply to look to him for that wisdom and direction.
As this week continues, I challenge you to lean into the Lord in a deeper way. Ask God how and who you can shed his light and love on today, tomorrow, and as the weeks go by.
You never know how you can impact someone for the greater good of the Kingdom of God just by checking in or helping extend a hand as a way to meet a need.
Devotional Thought 3-31-20
Today, pray specifically for our Heritage Center here in Shelby. Pray for the residents and the workers.
Pray with us together at 7:00 pm.
This is certainly a stressful time in each of our lives. There are those of us who are working on the frontlines caring for those who are ill with the virus. Many of us are learning to working from home, adapting our lives, and wondering if we will have a job when this is all over. The anxiety, fear, and panic that people are experiencing is real. People are hurting. Millions filed for unemployment benefits this past week.
This week I have prayed for you, our neighbors, our community, our nation and this world. Individually, we are virtually powerless to overcome this virus. But we can rest in knowing that our lives don't rest in our hands but in the hands of God. We know that God is good and that He loves us and will care for us. We trust that the Lord will see us through this storm. Our faith, although stretched to the hilt, remains strong because we know that in the Lord we can seek refuge and shelter. We know that He is our strength and our helper in times of trouble. We know that God is for us and not against us.
Romans 8:28 And we know that in all things God works for the good of those who love him, who have been called according to his purpose.
We realize this is not an easy time for anyone. Know that we continue to lift you up in prayer. Together, and with God's help, we will overcome this terrible virus.
May God's peace comfort you during these difficult times.
Devotional Thought 3-30-20
Today pray for churches and Christian organizations as they seek to reach out and serve in new ways during this uncharted time. Pray as they minister through new platforms that the message of the Gospel would be proclaimed.
Pray with us together at 6:30 pm.
Read Psalm 23:1-6
Psalm 23 is a favorite for many. What this psalm teaches us is what a life without lack looks like, which is something we all desperately long for in a time when we feel like we have great lack.
Many of us lack resources we once had, the freedom to go out and about as we once did, the relative safety we once perceived, the relational connections we once enjoyed, and the calm we experienced before COVID-19.
The Psalmist, David, lived such a roller-coaster of a life as well. Much of his life he spent on the run from those who intended to do him serious harm. Yet despite his tumultuous life he declared that he had no lack.
But how?
You see, David had become the kind of person who saw every situation through the lens of his perfect Shepherd.
So how might we become those whose life is without lack?
1) We Rest in Our Shepherd's Provision
Verse 2 says, "He makes me lie down in green pastures."
For a shepherd to guide their sheep to green pastures meant that they brought their sheep to a place of abundance, a place where the sheep wouldn't have to worry about food.
In other words, green pastures ensured that the sheep could rest in the guidance and provision of their shepherd.
People who live a life without lack are those who daily seek to rest in the provision of their Shepherd.
The ultimate provision for our souls, is the provision God made for us in Christ: He paid our debt and gives us eternal life. Not because we deserved it! But because of His great and unmerited love for us.
So while we might feel like we lack in physical provision now, whether in safety, resources, or relationally, we rest in the reality of His ultimate provision. The life without lack rests in His provision.
2) We Reside in Our Shepherd's Preservation
Verse 4 says, "Even though I walk through the valley of the shadow of death, I will fear no evil, for you are with me."
Another aspect of shepherding is that the sheep were never alone and without their shepherd. The shepherd always watched, always walked with, always remained vigilant on their behalf. The sheep's preservation was the shepherd's presence.
That doesn't mean we are protected from every harm. A life without lack is not a life without pain or suffering. Rather, a life without lack is a life that never lacks God's presence.
As we reside in God's presence, we reside in His preservation for us. Nothing we can experience in this life can ever separate us from the love of God and His presence assures us of this. Not even pandemics.
So people who live a life without lack daily reside in the Shepherd's preservation of their souls and their lives.
3) We Rely on Our Shepherd's Preparations
Verses 5 and 6 speak of the ultimate feast and our final dwelling place with God.
Jesus tells his disciples in John 14:2-3, "In my Father's house are many room. If it were not so, would I have told you that I go to prepare a place for you? And if I go and prepare a place for you, I will come again and will take you to myself, that where I am you may be also."
Jesus went to prepare our place for us in his going to the cross. But it wasn't just so that we would be declared righteous before God. It was so that we would be with Jesus for all eternity.
The life without lack is the life lived in light of our future home.
Though there are pandemics and catastrophes in this life, we look ahead to the day when we step into the final home Jesus has gone ahead and prepared for us.
So let us live this life without lack. We have no reason to fear any pandemic or it's consequences because of our Shepherd's provision, preservation and preparations He has already made for us.
Im praying for you.
Devotional Thought- 3-28-20
Where is your foundation anchored today?
Paul reminds us in 1 Corinthians 3:11 that "For no one can lay any foundation other than the one already laid, which is Jesus Christ."
In Scripture, we often find our life compared to that of a house. A home built on a solid foundation will weather whatever storm this world can muster against it. Houses built on less sure foundations will crumble easily when faced with a strong wind or powerful storm. It is not the severity of the storm but the sureness of the foundation upon which the home is built that makes the difference.
Edward Mote, a successful cabinet maker and devoted church layman, did not grow up in a Christian home. His parents were poor innkeepers who ran a pub and struggled to make ends meet in 19th century London. At 16, Edward experienced a life changing encounter with Jesus and gave his life to Christ. Later on in his life, Edward played a significant role in building a chapel in Horsham, England. He wound up preaching and ministering in that church until failing health forced him to retire from the pulpit.
During his ministry years, Edward Mote found time to write more than one hundred and fifty hymns, many of which are found in an 1836 collection he published titled Hymns of Praise. Mote's collection included the now well-known hymn "The Solid Rock." Mote's hymn is based on the words of Jesus in Matthew 7:24-27, the chapter that concludes the Sermon on the Mount. Jesus is telling a parable comparing wise and foolish builders.
24 "Therefore everyone who hears these words of mine and puts them into practice is like a wise man who built his house on the rock. 25 The rain came down, the streams rose, and the winds blew and beat against that house; yet it did not fall, because it had its foundation on the rock. 26 But everyone who hears these words of mine and does not put them into practice is like a foolish man who built his house on sand. 27 The rain came down, the streams rose, and the winds blew and beat against that house, and it fell with a great crash."
Matthew 7:24-27 (NIV)
From the outside, both houses in Jesus' illustration look sturdy and secure. However, extreme testing reveals the actual quality of the builders' work. It turns out, one of the houses was built on a better foundation that could withstand any storm.
And so it is with us. If we are wise, we build our foundation on Jesus Christ. If we are foolish, we fail to employ the gift God has freely given us and will be unprepared to endure and persevere the tests and trials, like COVID-19, that this earthly life brings. If we expect to withstand the ups and downs of life, we must put our faith and trust in the Lord Jesus Christ. If we act wisely then we will rest our confidence in who Jesus is, what Jesus has done for all of us, and in what Jesus taught. He alone is the Solid Rock.
If we put our trust and faith in Jesus Christ, we can weather any storm, including this one that the entire world knows as COVID-19.
I am praying for you.
Devotional Thought- 3-27-20
Today pray for our fellow brothers and sisters in Christ, that they are reassured and reminded that God is good and He remains in control even when our lives are spinning out of control.
Pray with us at 6:30 pm.
Devotional
Psalm 34, attributed to David, was written during an extremely challenging period of David's life. Even though David enjoyed the Lord's hand of blessing over most of his life, David didn't live a perfect life nor was his life void of difficulties. Throughout the seasons of his life, David experienced God in fresh and different ways. He knew firsthand that no matter what was happening in his present life, God was there, growing David in his spiritual walk. David knew God to be trustworthy, faithful, and able.
Psalm 34 combines thanksgiving and wisdom as David reflects on the Lord's faithfulness in keeping His promises and in delivering God's people. David begins with a shout of exultation and invites others to join him in praising God's name. David shares that he has ample reason to praise God and encourages people to praise the Lord as well.
"The purpose of praise is not to make God's people feel good but to acknowledge in a communal way the greatness of our God."
Willem A. VanGemeren
David had recently experienced God answering his prayers to deliver him from his enemies. But God answering David's prayers was not new to him nor to God's people. God had answered their prayers countless times before even when they themselves did not know how or what to pray. David reminds us that those who trust in the Lord will never be disappointed.
David makes it clear that God is trustworthy and praiseworthy. That is his experience.
It can be ours also.
Open your Bible and read Psalm 34
David tells his people that the richest opportunities to enjoy God's goodness exist during times of great distress. Absent of faith, relying on ourselves, we endure suffering with extreme prejudice not knowing where our help comes from or how we will find a solution to escape our calamities. But with God, we aren't going it alone. We do not need to fear. He will never leave us nor forsake us. We can count on Him to work all things for good for those who love Him and have put their faith and trust in Him. God saves, God keeps, and God satisfies. God IS good.
Wrapping It Up
While it may seem counter intuitive, suffering and pestilence are perfect times to praise God. Praising the Lord when things are going our way should be easy. But praising God in the middle of a storm or when fighting an unseen enemy bent to rob, kill, and destroy us demands a spiritual maturity and great faith that it may take years to hone and that typically only comes from experiencing and enduring previous challenges and difficulties. There is simply no shortcut from here to there. Suffering precedes glory.
Thankfully, we can rely on God. He is faithful.
Reflection Questions
How has God been good to you during this COVID-19 crisis?
In what ways have you experienced God revealing His blessing during this time of trial and tribulation?
I am praying for you.
Devotional Thought- 3-26-20
Be still and know that I am God. Stop striving and struggling and recognize that He is God. Step out from all the noise and focus your eyes on Almighty God. He is above politics. The Lord reigns above everything.
Verse 10 is a well-known, beloved scripture. Many of us have committed it to memory and it encourages us in unsettling times like these. Verse 10 is an anchor in a psalm resonating with triumph and confidence. Psalm 46 is a song of encouragement and of victory that reminds us that no matter what kind of trouble we find ourselves enduring, God is greater than our enemy. Written in remembrance of a time when God miraculously delivered the city of Jerusalem from its enemies, it reminds us of the power of the God we worship and serve.
Open your Bible and read Psalm 46
Verses 1-3 speak to the power of our God. God is our refuge. The Lord is our strength. He is a faithful helper present in every storm. We can take courage in knowing God has our back. We can trust Him and find safety in His arms. He is our Great Protector in times of trouble. The Lord will see us safely to shore and show us tremendous blessings when we get there.
Verses 4-7 remind us of God's presence during the trials and tribulations we face daily. You and I have encountered numerous obstacles and suffered several calamities in our lifetime. This is not our first rodeo. It's certainly not God's either. He was with His creation then, He is with us now, and He will be with us in the future, whenever the next big storm comes. With God, we will overcome this virus that is threatening our health and ravaging our economy. COVID-19 is a lung-eater and a money-stealer.
Verses 8-11 bring it all home. God brings peace where there is war. He calms conflicts. The Lord provides joy where there once was sorrow. The Lord invites us to join Him. He delights in revealing glimpses of our eternal future to us. Yes, God Almighty has a plan. Being in the center of God's will is the best place to be amid the trials, troubles, and tribulations of this present world. We can take peace in knowing that whatever we're going through today, the Lord of Hosts is with us. He is our stronghold.
Time of Reflection
No doubt COVID-19 has turned all of our lives upside down. Like so many of you, Terri and I are sheltering-in-place, working from home. It's a little bit of an adjustment but we are both thankful for the blessings God has provided us. We have shelter. We are secure. My encouragement to you is to seize the moment. Make the best of it. Focus on what you do have and what you can do versus getting mired down in the negatives.
9 Things You Can Do While You Are Self-Quarantined
Enjoy going for a walk with your spouse, a loved one, or a friend. God gave us a beautiful day today. Make the most of it!
Remember that project you never had time to get to? Well…? Now is the time. Imagine the satisfaction you'll have when this is all over and you can look at that updated spare room, organized closet, or clean garage.
Play some games. Go old school and break out those board games stashed away in your hall closet. Like our Mamas would always say: "When life gives you lemons, make lemonade.
Reconnect. Call those old friends you've been wanting to talk to but never seem to find the time to reach out to. It'll be a blessing to you both. I'm sure of it.
Read that book that's been calling your name or watch that movie you've been wanting to see but were too busy to enjoy
Memorize some Scripture. What a novel idea!?! Look, the truth is, you need God's word more than ever today. Why not commit some of it to heart?
Pray for those on the front lines fighting this deadly disease. Pray for your neighbors. Pray for your church family. Pray for your loved ones. Spend time with God.
Serve others. Ask your elderly neighbors if you can get them anything at the store while you're there. It will keep them out of harm's way. They'll be happy that you did. And so will you.
Look up. Take a break from the news, weather forecasts, and all the other noise. Remember that God's got you. He is with us. We are not in this fight alone.
I am praying for you.
Devotional Thought- 3-25-20
Matthew 22:37-39
37 Jesus replied: "'Love the LORD your God with all your heart and with all your soul and with all your mind.' 38 This is the first and greatest commandment. 39 And the second is like it: 'Love your neighbor as yourself.'
Jesus understands all too well what it means to face great opposition. In his day, Jesus faced great opposition from the leaders of the people, the Herodians, Pharisees and Sadducees. Like a virulent disease, they sought to kill the message that Jesus brought to the people. In the sentences leading up to our key scripture, we see that they tried to trick Jesus into making public statements that would invalidate His earthly ministry and render mute any claims that He was the Son of God and the long-awaited Messiah. Remember, Satan seeks to rob, kill and destroy. The Devil seeks to do that to us today with as much vigor as he sought to extinguish the redemptive ministry of Christ. Jesus saw the leaders for who they were, not for who they claimed to be.
First up were the Pharisees and their friends, the Herodians. They attempted to trick Jesus regarding the imperial tax levied on the Jewish people by the Romans. Jesus perceiving the malice in their hearts, promptly rebuked them. The Sadducees, thinking they were smarter than their rivals, decided they would challenge Jesus with a theological hot button topic, similar to how some challenge us when we are attempting to share the Gospel. But Jesus was not caught off guard by their feeble efforts to discredit Him. Lastly, in one final attempt to invalidate Him, an expert in the law asked Jesus a question intended to test Him. Again, for the final time in this round of attacks, responding with grace and wisdom, Jesus demonstrated the validity of His messianic claims, silencing His critics.
Much like Jesus did in His day, we face an Enemy bent on robbing, killing, and destroying us. He stops at nothing to quench our spirit, drown our hope, and extinguish our love. But, do not fear, for our God is greater.
The virus has disrupted the everyday life of millions of people around the World. The virus unleashed a wave of sorrow and pain upon humanity in addition to causing some serious gnashing of teeth in populations all around the globe. Difficult times like these will prompt us to draw nearer to God or pull further away from Him. Some will look to immediately to the Lord for wisdom and guidance. Others will undoubtedly see the virus as another sign that God doesn't exist and reason that if He does He sure doesn't care about us. Perhaps you feel like the Lord of Creation has abandoned you. Let me reassure you: nothing could be further from the truth.
God is very present in this moment of our current century's greatest global health crisis. He is near. The question is, will we draw near to Him during our time of need? Will we use this time to demonstrate love to others because God first loved us or will we miss out on a chance to show the World that as followers of Christ, we are first and foremost about acting in love. Love is all about action. Like a Bible, love left sitting on a shelf is void of its full potential. Let us seize the day and shower those we interact with during this time of social distancing with love.
Time of Reflection:
How is the COVID-19 crisis impacting your relationship with God?
How is the COVID-19 crisis influencing your ability to love others?
How are you drawing closer to God during this crisis?
How are you showing love to others during this crisis?
What are you doing to stay socially connected while practicing social distancing?
Read the Bible in a Year Reading Plan
Join us as we read through the Bible in a year. Click the link below to download the reading plan. You can also pick one up at the church.
Essential 100 Bible Reading Plan
(You can access a link to the Bible texts by clicking on the Verses below.)
OLD TESTAMENT
In the Beginning
1. Creation: Genesis 1:1-2:25
2. The Fall: Genesis 3:1-24
3. The Flood: Genesis 6:5-7:24
4. God's Covenant with Noah: Genesis 8:1-9:17
5. Tower of Babel: Genesis 11:1-9
Abraham, Isaac and Jacob
6. The Call of Abram: Genesis 12:1-20
7. God's Covenant with Abram: Genesis 15:1-21
8. Isaac's Birth and "Sacrifice": Genesis 21:1-22:19
9. Jacob and Esau Compete: Genesis 27:1-28:22
10. Jacob and Esau Reconcile: Genesis 32:1-33:20
The Story of Joseph
11. Sold Into Slavery: Genesis 37:1-36
12. Prison and a Promotion: Genesis 39:1-41-57
13. Ten Brothers Go to Egypt: Genesis 42:1-38
14. The Brothers Return: Genesis 43:1-44:34
15. Joseph Reveals His Identity: Genesis 45:1-46:7
Moses and the Exodus
16. Birth of Moses: Exodus 1:1-2:25
17. The Burning Bush: Exodus 3:1-4:17
18. The Ten Plagues: Exodus 6:28-11:10
19. Passover and Exodus: Exodus 12: 1-42
20. Crossing the Red Sea: Exodus 13:17-14:31
The Law and the Land
21. The Ten Commandments: Exodus 19:1-20:21
22. The Golden Calf: Exodus 32:1-34:35
23. Joshua Succeeds Moses: Joshua 1:1-18
24. Crossing the Jordan: Joshua 3:1-4:24
25. The Fall of Jericho: Joshua 5:13-6:27
The Judges
26. Israel's Disobedience: Judges 2:6-3:6
27. Deborah Leads Israel: Judges 4:1-5:31
28. Gideon Defeats the Midianites: Judges 6:1-7:25
29. Sampson Defeats the Philistines: Judges 13:1-16:31
30. The Story of Ruth: Ruth 1:1-4:22
The Rise of Israel
31. Samuel Listens to God: 1 Samuel 1:1-3:21
32. King Saul: 1 Samuel 8:1-10:27
33. David and Goliath: 1 Samuel 16:1-18:16
34. David and Saul: 1 Samuel 23:7-24:22
35. King David: 2 Samuel 5:1-7:29
The Fall of Israel
36. David and Bathsheba: 2 Samuel 11:1-12:25
37. King Solomon: 1 Kings 2:1-3:28
38. Solomon's Temple: 1 Kings 8:1-9:9
39. Elijah and the Prophets of Baal: 1 Kings 16:29-19:18
40. The Fall of Jerusalem: 2 Kings 25:1-30
Psalms and Proverbs
41. The Lord is My Shepherd: Psalm 23:1-6
42. Have Mercy on Me: Psalm 51:1-19
43. Praise the Lord: Psalm 103:1-22
44. Godly Wisdom: Proverbs 1:1-4:27
45. Proverbs of Solomon: Proverbs 16:1-18:24
The Prophets
46. The Suffering Servant: Isaiah 51:1-53:12
47. Jeremiah's Call and Message: Jeremiah 1:1-3:5
48. Daniel in the Lion's Den: Daniel 6:1-28
49. The Story of Jonah: Jonah 1:1-4:11
50. The Day of Judgment: Malachi 1:1-4:6
NEW TESTAMENT
The Living Word
51. The Word Became Flesh: John 1:1-18
52. Gabriel's Messages: Luke 1:1-80
53. The Birth of Jesus: Luke 2:1-40
54. John the Baptist: Luke 3:1-20
55. Baptism and Temptation: Matthew 3:13-4:17
The Teachings of Jesus
56. Sermon on the Mount - Part 1: Matthew 5:1-6:4
57. Sermon on the Mount - Part 2: Matthew 6:5-7:29
58. The Kingdom of Heaven: Matthew 13:1-58
59. The Good Samaritan: Luke 10:25-37
60. Lost and Found: Luke 15:1-32
The Miracles of Jesus
61. Feeding the Five Thousand: Luke 9:1-36
62. Walking on Water: Matthew 14:22-36
63. Healing a Blind Man: John 9:1-41
64. Healing a Demon-Possessed Man: Mark 5:1-20
65. Raising Lazarus from the Dead: John 11:1-57
The Cross of Christ
66. The Last Supper: Luke 22: 1-46
67. Arrest and Trial: John 18:1-40
68. The Crucifixion: John 19:1-42
69. The Resurrection: John 20:1-21:25
70. The Ascension: Acts 1:1-11
The Church is Born
71. The Day of Pentecost: Acts 2:1-47
72. Growth and Persecution: Acts 3:1-4:37
73. The First Martyr: Acts 6:8-8:8
74. Sharing the Work: Acts 8:26-40
75. Good News for All: Acts 10:1-11:18
The Travels of Paul
76. The Road to Damascus: Acts 9:1-31
77. The First Missionary Journey: Acts 13:1-14:28
78. The Council at Jerusalem: Acts 15:1-41
79. More Missionary Journeys: Acts 16:1-20:38
80. The Trip to Rome: Acts 25:1-28:31
Paul to the Churches
81. More than Conquerors: Romans 8:1-39
82. The Fruit of the Spirit: Galatians 5:16-6:10
83. The Armor of God: Ephesians 6:10-20
84. Rejoice in the Lord: Philippians 4:4-9
85. The Supremacy of Christ: Colossians 1:1-23
Paul to the Leaders
86. Elders and Deacons: 1 Timothy 3:1-16
87. The Love of Money: 1 Timothy 6:3-21
88. Good Soldiers of Christ: 2 Timothy 2: 1-26
89. All Scripture is God-breathed: 2 Timothy 3:10-4:8
90. The Coming of the Lord: 1 Thessalonians 4:13-5:11
The Apostles' Teaching
91. The Most Excellent Way: 1 Corinthians 13:1-13
92. A New Creation in Christ: 2 Corinthians 4:1-6:2
93. A Living Hope: 1 Peter 1:1-2:12
94. Faith and Works: James 1:1-2:26
95. Love One Another: 1 John 3:11-4:21
The Revelation
96. A Voice and a Vision: Revelation 1:1-20
97. Messages to the Churches: Revelation 2:1-3:22
98. The Throne of Heaven: Revelation 4:1-7:17
99. Hallelujah! Revelation: 19:1-20:15
100. The New Jerusalem: Revelation 21:1-22:21